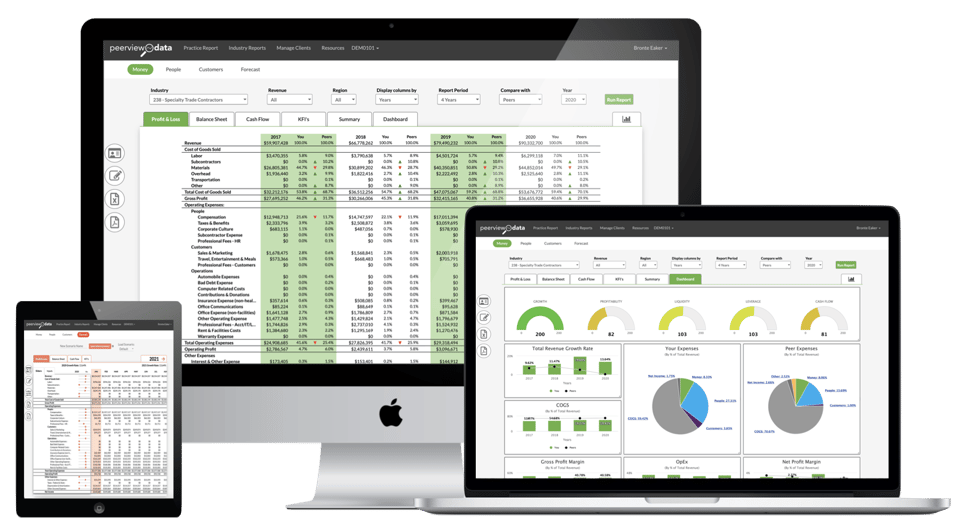 Are you growing an Advisory practice but frustrated with:
Trying to standardize your offering for all clients?
Trying to level-up all of your Advisors?
Trying to use data from several different sources?
Trying to learn big data applications just for graphs?
It should be easier than it seems, right?
There is a better way!
Peerview Data's Advisory Solution enables you to turn your clients' financial data into insights that prepare you to "get back in front of your clients", have deeper conversations with them, and drive additional revenue for your firm.
Historical analysis frames where they've been and how they've been doing. Current analysis shows them how they're doing against their peers. And Future features and tools help them identify where they want to go and how to get there.
Here's how we do it...
1. CONNECT
Identify which clients you want to analyze and connect their accounting application to Peerview Data.
2. REVIEW
Your data is then mapped using AI and Machine Learning. After a quick approval, your reports are generated and ready for your analysis and review.
3. CONSULT
Time to get in front of your clients, help them understand their past performance and current state, and then work toward the future they desire.
Our mission is to help you and your clients to make better decisions.
We've helped firms nationwide amplify their expertise as advisors and build profitable new revenue streams. Here's what a few of them have to say...
"Something we found as an added benefit was using Peerview's forecast in our year end client meetings. Our team was able to sync the forecast to real time data from QuickBooks Online, drive conversations from the screen, build multiple "what-if" scenarios, and to discuss tax implications."
"Peerview Data's application was the first solution that provided us with views of all of our clients and client data. As a result, we're able to see how our clients are doing compared to their peers and proactively connect with those who need assistance."
"We're really excited about how easy Peerview is to use. We've done analytical work in the past, but it always involved lots of manual input, lots of spreadsheets that we had to create & populate, etc. Now we can spend more time creating value and less time doing busywork."
Scale your plan as you scale your Advisory Services
Peerview - Freeview
$0
---
Profit & Loss

Balance Sheet

Cash Flow

Key Financial Indicators

Connect to QuickBooks Online or Xero

Quarterly Users Conference (Virtual)
Peerview Advisor
Unlimited users
Report suites for 5 clients
---
Everything in Freeview, Plus:

Curatable Dashboards

Integrated Forecast

Export to Excel

Print to PDF
Most popular
Peerview Advisor Plus
Unlimited users
Report suites for 20 clients
---
Everything in Advisor, Plus:

People (HR) & Customer (Sales & Mktg) Reports

Excel Uploads

Monthly Team Support Sessions
Peerview Advisor Team
Unlimited users
Report suites for 50 clients
---
Everything in Advisor +, Plus:

Practice Reports

Industry Reports

Audit Reports
Peerview Enterprise Plans Available
Looking for a plan for 250 clients or more? Let our sales team customize a package for you to meet your needs.
Options include: RPA Integration, Open API's, White Labeling, Custom Report Development, and more.
About Peerview Data
At Peerview Data, we know you're under pressure to provide the best advice to your clients. In order to do that you need to be able to leverage your data and put systems in place to support your growing Advisory practice. Here's the problem: it's difficult to standardize across your firm, not all accountants are natural advisors, data is coming from several different sources, and we're often tasked with using apps that we haven't learned.
That's why we created software that takes the frustration out of the analysis of historical financial results, provides peer benchmarks and comparative analytics, and gives you tools to consider scenarios and plan for the future. So you can get back to developing client relationships and helping them achieve their desired results. And yours!